Customized IT Solutions to Meet Your Unique Business Needs
Customized IT Solutions to Meet Your Unique Business Needs
IT Technical Support for Any Business in Ireland & UK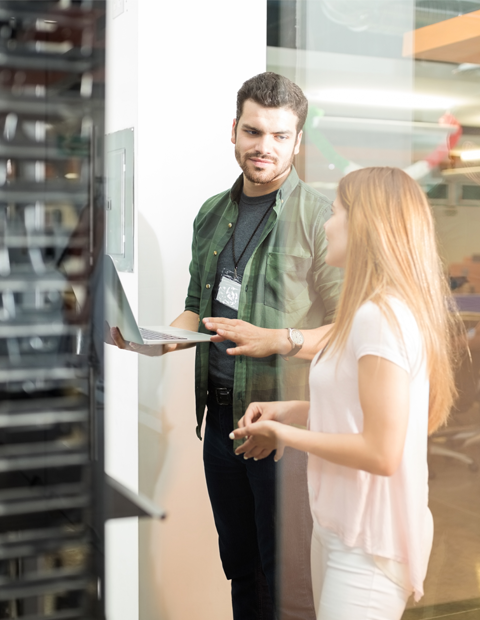 For over two decades, Zintek has been a reputable company providing bespoke IT support & services to clients nationwide in Ireland and the UK since 2002. We provide high performance services and solutions to businesses of all sizes, no matter if you are a small startup or a large corporation.
At the heart of our ability to deliver "excellence" to all our clients are our partners and suppliers. We work closely with them to ensure that we align with all of our clients' needs, enabling us to achieve our goals and ultimately satisfy our clients. We understand that collaboration with our suppliers is key to our success and growth. By working together towards a shared goal, we can leverage each other's strengths and achieve customer satisfaction.
Many times, a customer will come to Zintek looking for solution to an IT problem that exists within their business. This is where Zintek's project management team shines. Our helpdesk is the first point of contact for our many customers, offering technical advice and progress updates. Each time a customer contacts us we realise that our response is the balance between a good and great relationship. We operate a customer relationship management system that will track calls, response times, reporting and much more to satisfy all our customer's needs. 
" Zintek are the service partner of choice for Playtech BGT Sports and carry out all aspects of service and installation in our Irish estate. As well as keeping our hardware operational they are adept at trouble shooting and assist us with issues of all kinds both with hardware and software. In addition to this they carry out various upgrade and refurbishment projects which are required periodically. Their engineering force is both professional and thorough in their work with a can-do attitude, which results in absolute confidence in their fault diagnosis. We have no need to look elsewhere for the operational coverage we require in a demanding and rapidly expanding estate."
" Zintek provide Tesco Ireland with a variety of services primarily around terrestrial and satellite TV installation, TV display wall technology and audio / visual equipment in our offices. Zintek have taken the time to understand our particular business requirements and have worked hard to develop comprehensive and competitive solutions. They are a highly professional and creative company who are prepared to go above and beyond to meet the needs of their individual clients. I would have no hesitation in personally recommending this company."
" We work very well with Lisa and the team at Zintek and we have always found them to react efficiently to queries and resolve any issues in a timely manner. Open communication and a good working relationship are key. We have introduced Clickshare technology to all our meeting and event spaces and are delighted as it helps speed the presentations' set up and delivery process for our customers. I would not hesitate to recommend Zintek and their staff, who have never let me down regardless of the request , their work is excellent."
" Dalata have been working with Zintek now for more than 5 years, during this time we have upgraded TV's, head ends, system distribution systems, digital signage, deployed Sky In room and Bar subscriptions as well as full rewiring projects. We have opened more than 7 hotels with Zintek doing the full TV, TV Bracket and headend install. Such is our satisfaction with Zintek that they also complete our UK installs and maintenance. We see Zintek and a trusted partner."
" The professionalism, problem solving skills and commitment showed by Zintek to deliver this project was second to none."
"It has been a pleasure to work with the Paul and the team from Zintek. The price was competitive. The customer service from start to finish was excellent, friendly and open. The installation of the product was done efficiently and at the agreed time. The team cleaned up after themselves and it was as if they hadn't been in our offices. Everything worked straight away and any questions we had were answered quickly and easily. I would have no hesitation in recommending Zintek to other businesses."
If you're looking for a reliable and professional IT Support company to take care of your technology needs, look no further. Contact us today to schedule a consultation and learn how we can help your business succeed. 
42 Broomhill Close,
Tallaght, Dublin 24,
D24 THF5.